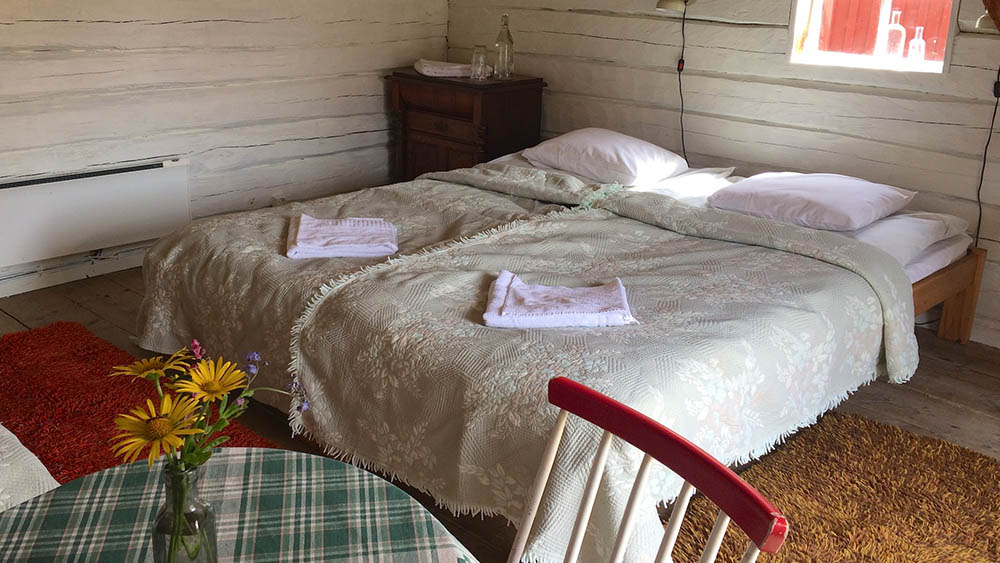 Stay in a historical environment!
Enigheten (The Unity) is a historic guesthouse in the village of Degerby, Föglö. It has been functioning as a guesthouse since the 18th century. We offer 10 comfortable rooms for 1-5 guests and 3 cosy log cottages for 1-6 guests.
Our guests have access to our beach with a grill cottage, a rowing boat and cooking facilities.

Enigheten is an idyllic stay for families with children. In our garden we have a rope swing, trampoline and different lawn games to play.
Our history
The first inn at this location was opened in the year 1625, by order of the Swedish king Gustav Adolf, to accomodate those traveling between Stockholm and Åbo (Turku), Finland at that time being part of Sweden. There was considerable marine traffic through Degerby at the time and ships could be waiting for fair weather for weeks here before making the crossing to Sweden. Many important men have passed through Enigheten, among others Swedish king Adolf Fredrik during the summer of 1754.
When the new docks further south in Degerby were finished in 1911, the inn business at Enigheten was discontinued. The buildings that currently stand were erected during the latter part of the 18th century, following the pillaging of Russian military during the Russo-Swedish war of 1741-43, as well as a devastating fire in 1750.
Beginning in the early 18th century, Enigheten was used as tingsplats, a court where feuds between neighbours, territorial disputes, paternity matters as well as the occasional murder were settled by a judge. This court served Föglö as well as Sottunga, Kökar and, until the mid 1850s, Utö, Jurmo and Österskär. The last time a court convened at Enigheten was in 1944.
After decades of neglect Enigheten was donated to the newly formed local society Föglö hembygdsförening in 1982. The buildings were restored in close collaboration with historical experts from the local government, with most of the work done by local volunteers. During the summer of 1985, almost 75 years after the last guests had checked out, Enigheten was reopened.